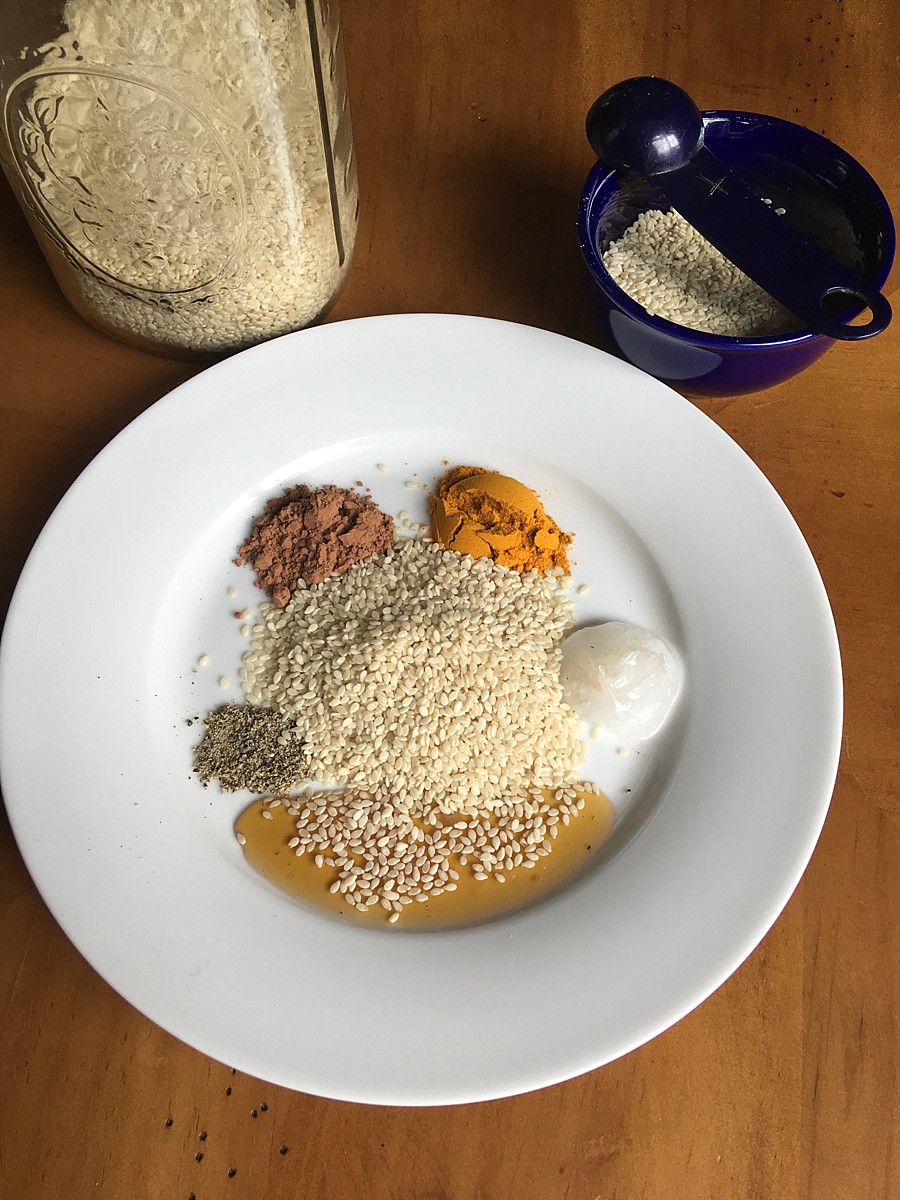 Books have been written about the healing properties of turmeric, it is especially good for the inflammation that causes sore joints. Capsules are available but they can be so expensive. I like to buy my turmeric by the pound and eat it in my special preparations.
I got the idea for this first recipe when I saw some Turmeric Candy at the health food store and thought, "I could make something like that for a LOT less."
1 tsp turmeric
1 tsp cocoa
1 tsp coconut oil
1 tsp maple syrup
16 grinds of fresh pepper
2 T of white sesame seeds (optional)
I usually mix it one serving at a time in the little bowl but wanted you to see the ingredients. Without the sesame seeds the consistency depends on the temperature of the coconut oil. It can be like chocolate syrup, fluffy chocolate frosting or fudge. When I travel I mix a big batch, put it in the fridge in a flat container and cut it into single serving pieces. I love to share this easy recipe because each ingredient has healing properties.
I also make Golden Elixir a.k.a Golden Cocoa. I remember my Ayurvedic instructor talking about drinking turmeric milk every morning and I thought,"Yuck!" Then my daughter sent me a video of a cute guy talking about Golden Elixir and I thought, "OK!"
Everyone has their own favorite recipe, here is mine…
1 tsp. cocoa
1 tsp. turmeric
½ tsp. chai spice (mix ahead to have on hand 1 T. Cardamom, 1 T. Ginger, ½ T. Cloves, 1 T. Black Pepper, 1 T. Cinnamon, 2 T. nutmeg)
1 ½ Cup milk (I prefer whole organic milk and my husband prefers almond milk)
When I fix it for myself I also add: ½ tsp. ginger and a dash of cayenne pepper.
When I fix it for my husband it has less cocoa and more cinnamon.
When you make it for yourself you make it the way YOU want it. It's adjustable & it's always Yogi's Choice.
Heat in a saucepan; pour into a mug with 1 tsp sweetener. (I prefer sucanat) Enjoy!
It's so good and good for you!